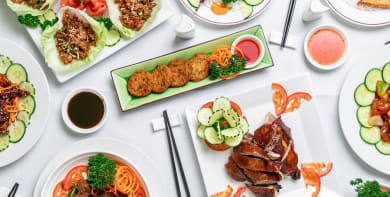 Reviews
Beril
"Our favourite place. Packaging was biodegradable. We absolutely love the wok fried aubergine & prefer it without red peppers."
11/01/2022
Donnacha
"The food is always great, they didn't have an item so they called us to ask if we wanted something else. But never fails to get food from here, lovely restaurant."
09/01/2022
Helen
"Deliciously"
01/01/2022
Beril
"Amazing food arrived early. Second order of the month from them. Decent price, great service. Wok fried aubergine is much recommended!"
27/12/2021
Menu
Contact Us
Find Us
68 Deerpark Road, Dublin, MOUNTMERRION
Opening Hours
Please note, delivery times may vary.
We deliver to
Ballinteer, Ballinteerbroadford, Ballinteerludford, Ballinteermarley, Ballinteermeadowbroads, Ballinteermeadowmount, Ballinteerwoodpark, Ballsbridge, Belfield, Blackrock, Blackrockbooterstown, Blackrockcarysfort, Blackrockcentral, Blackrockglenomena, Blackrockmonkstown, Blackrocknewpark, Blackrockseapoint, Blackrockstradbrook, Blackrocktemplehill, Blackrockwilliamstown, Booterstown, Churchtown, Churchtowncastle, Churchtownlandscape, Churchtownnutgrove, Churchtownorwell, Churchtownwoodlawn, Clonskeagh, Clonskeaghbelfield, Clonskeaghfarranboley, Clonskeaghmilltown, Clonskeaghroebuck, Clonskeaghwindy Arbour, Dartry, Deansgrange, Donnybrook (Dublin), Dublin 2, Dundrum, Dundrumbalally, Dundrumkilmacud, Dundrumsandyford, Dundrumsweetmount, Dundrumtaney, Foxrock, Foxrockbeechpark, Foxrockdeansgrange, Foxrocktorquay, Galloping Green, Glencullen, Goatstown, Irish Town, Kill Of The Grange, Kilmacud, Kilternan, Leopardstown, Milltown (Dublin), Monkstown, Mount Merrion, Nutgrove, Pembroke, Ranelagh, Rathfarnham, Rathgar (Dublin), Rathmines, Ringsend, Roseville, Sandyford, Sandymount, Stepaside, Stillorgan, Stillorgandeerpark, Stillorgankilmacud, Stillorganleopardstown, Stillorganmerville, Stillorganmount Merrion, Stillorganpriory, Tibradden, Ticknock, Windy Arbour